Rose Bay Aquatic Hire
Frequently Asked Questions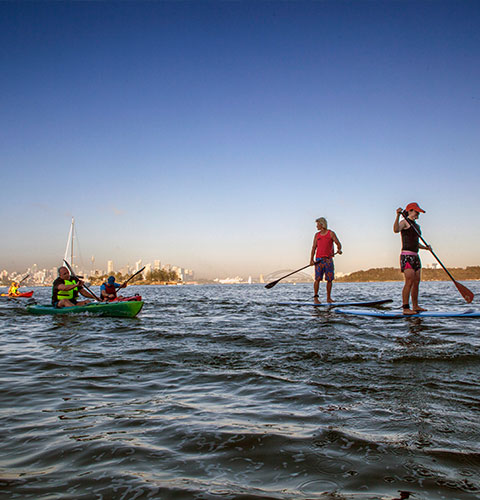 FREQUENTLY ASKED QUESTIONS ABOUT OUR HIRE OPTIONS
Thank you for visiting the Rose Bay Aquatic Hire website. Our vision is to provide a low cost and affordable way for people to enjoy and spend time on Sydney Harbour. We hire Paddleboards and Kayaks to the public from our beautiful location at Rose Bay in the Eastern Suburbs of Sydney, Australia.
Please browse our Frequently Asked Questions below for further information or contact us if you have any questions.
Do I need to pay a Hire Deposit?
Photo ID/keys or similar must be left as a security deposit with all hires.
Do you hire out catamarans?
No, we do not. For catarmaran hire please try Balmoral sailing school on 02 9960 5344
Do we need to make a booking to use your services?
No, just come down. Bookings are only required if 10 or more people come together in one group.
How do you accept payment?
Cash only.We do not have eftpos facilities but there are ATM facilies nearby/within walking distance.
Is their parking nearby?
YES. All day, no charge parking is available on New South Head Road.
Parking is also available on Vickery Avenue and the Lynne Park Car Park.
Can we get to you by public transport?
YES. Catch the bus from Cirqular Quay. The 324 or 325 and get off at the Rose Bay RSL club.Or catch the Ferry from Cirqular Quay to Rose Bay ferry terminal and its a 10 minute walk.
Are their showers or changing room facilities available?
NO. So come dressed in the gear you will use to go out in the water.
Public toilets a nearby to use if you want to change afterwards.
Are there places nearby where we can have lunch after our hire?
YES. An RSL club and Pub are nearby which offer meals etc. And their a plenty of Takeaway food options nearby and a park to enjoy or have a picnic in afterwards.
Do you have rescue boat on hand in case we experience difficulties on the water?
YES, we have qualifed rescue personal and a rescue boat on hand at all times. Your hire will include all safety equipment. E.G – A paddle and a Lifejacket.
When is the best time to paddleboard?
It is best to do paddleboarding in the mornings (before 12.00pm), when generally there are low winds and low chop on the water and the sea is calm. The wind will usually pick up in the afternoon and conditions can be quite challenging unless you are experienced.
Do you offer a a rescue service if we get in trouble during our PB hire?
Yes, we we have a Motorised rescue boat on standby to perform all rescues and to assist our clients. We know who is out on the water at any one time and we do random patrols of the bay to ensure that everyone is fine and having a good time. You board and you can be picked up and you can enjoy a safe ride back to shore!
Can anyone do it?
Yes, anyone can do it. The board has so much flotation in it, so the board is very stable when you stand on it.
Is it difficult to stand up on the paddleboard?
No, in fact it is pretty easy to stand up and paddle along once you get use to it. Certainly, you should be able to stand up within the first 10 minutes of using the boards.
What should I wear?
Nylon shorts and ratchet tops for guys and bikinis or bathers for ladies as you may fall in and get wet!  You should bring a dry change of clothes to get into afterwards and a towel.
Do you take bookings or reservations for paddleboard hire?
Only midweek. We do not take bookings for paddleboards on weekends. It is first in, first served. 90% of the time when you arrive, we will have boards available. If all the boards are out when you come, the maximum wait time is around 15 minutes (even for large groups). We have a number of boards and you will definitely get on the water.
Do you hire out fibreglass skis?
No we don't, only sit on top, plastic kayaks.
What should I wear?
The bottom half of your body does get wet when kayaking, so you should wear swimmers with a t-shirt/ rash vest on top plus shorts or bike pants (whatever feels comfortable paddling). If you like, you can wear waterproof shoes (such as crocs/ thongs) but no shoes is fine on the kayaks.
What should I bring?
A hat, towel, bottle of water and a dry change of clothes.
Are children allowed to kayak?
Yes, provided they are 16 yrs and over. Children under 16yrs old must be accompanied by an adult.
Can we visit Shark Island on the kayaks?
Yes, if the sea and wind conditions are suitable. You will need to pay a $7.00 landing fee to NSW National Parks. To arrange this, please phone 1300 072 757.
Do you offer guided tours of Rose Bay?
No, we do not offer guided tours with an instructor/tour guide. We only offer self guided hire.
You can contact our partner company, Ozpaddle, for guided tours of Sydney Harbour.
THE TEAM AT ROSE BAY AQUATIC HIRE
Come and see the team at Rose Bay Aquatic Hire for your next paddleboarding or kayak experience on Sydney Harbour.
We are located on the beach at Tingira Reserve, opposite the Rose Bay RSL Club on the corner of New South Head Road and Vickery Avenue, Rose Bay, NSW, 2029.