Stand-Up Paddleboard lessons
&

hire – Sydney Harbour
Try Stand-Up Paddleboarding and discover how much fun it is!
SUP boarding is the latest craze to hit the beaches and it is an excellent way to be active, keep fit, and build core strength.  We offer a wide range of stand-up paddleboards for hire.
You do not need a lesson to hire our boards.  Just turn up and hire a board from $25.00 each.
Paddleboarding is suitable for all fitness levels and is an awesome way to see Sydney Harbour.  Rose Bay is an ideal venue to learn as the waters are calm and the views are fantastic.
Rates:
Standard Hire – $25 per hour
The hire includes a stand up paddleboard and a paddle. We are happy to give you a few tips to get you started. A safety briefing is provided to you before you enter the water. Hire the board/paddle and away you go!
Standard Hire with Lesson – $50
The hire includes a 20 minute lesson with a 1 hour paddleboard hire.  This will help to get you familiarised with the correct method to stand on the board, use the paddle and steer. A safety briefing is provided to you before you enter the water.
Special Rate – 4 Person Stand Up Paddleboard: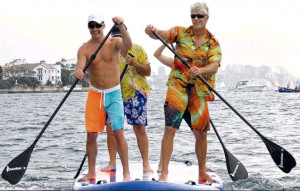 $80 per hour – maximum of 4 people
2 boards available – weekends only unless a booking is made for a weekday hire session.
These boards are ideal for team building or family fun!
Because we only have a limited number of paddleboards, it is best to arrive early for your paddle experience. Avoid the high demand times, during the middle of the day (11am to 1pm), as you may have to wait for boards to become available.
For up to date weather information and forecasts for Sydney Harbour, please check the Seabreeze website via the following link: Seabreeze Sydney Forecast.
Always phone or text message us before you plan to visit to confirm that we are open.  If the weather turns bad we can close suddenly.
Please arrive ready to enter the water.  You may get wet or fall in, so wear appropriate clothing.  We do not have changing facilities but you can leave your belongings/clothing on the beach at our desk.
You will be asked to pay on arrival for your rental. We accept cash only and do not accept credit cards.  There is at ATM opposite our location within the Rose Bay RSL Club.
Stand-Up Paddleboard FAQs
What should I wear?
Nylon shorts and ratchet tops for guys and bikinis or bathers for ladies as you may fall in and get wet!  You should bring a dry change of clothes to get into afterwards and a towel.
Is it difficult to stand up on the paddleboard?
No, in fact it is pretty easy to stand up and paddle along once you get use to it. Certainly, you should be able to stand up within the first 10 minutes of using the boards.
Can anyone do it?
Yes, anyone can do it. The board has so much floatation in it, so the board is very stable when you stand on it.
Do you offer a a rescue service if we get in trouble during our PB hire?
Yes, we we have a Motorised rescue boat on standby to perform all rescues and to assist our clients. We know who is out on the water at any one time and we do random patrols of the bay to ensure that everyone is fine and having a good time. You board and you can be picked up and you can enjoy a safe ride back to shore!
When is the best time to paddleboard?
It is best to do paddleboarding in the mornings (before 12.00pm), when generally there are low winds and low chop on the water and the sea is calm. The wind will usually pick up in the afternoon and conditions can be quite challenging unless you are experienced.
Do you take bookings or reservations for paddleboard hire?
Only midweek. We do not take bookings for paddleboards on weekends. It is first in, first served. 90% of the time when you arrive, we will have boards available. If all the boards are out when you come, the maximum wait time is around 15 minutes (even for large groups). We have a number of boards and you will definitely get on the water.